Since its origin, TikTok has been valuable for content creators and communities searching for the latest trends, entertainment and authenticity. The app has recently gained traction as a popular informant–40% of Gen-Z searchers prefer TikTok (and Instagram) over Google. With TikTok Search becoming more ubiquitous, advertisers have the opportunity to optimize their TikTok Search presence both organically and via paid media. 
Enter: Search Ads Toggle. TikTok's latest offering is for savvy brands that want to increase visibility and extend paid placements to the search section of the app. The new feature equips marketers to serve ads in TikTok search results. 
While still in the early stages, Search Ads present a promising opportunity for brands to share their message with a populous online community. However, a top priority remains for brands to lean into creating authentic, entertaining ads that integrate with existing content before jumping into TikTok Paid Search.
TikTok Paid Search Ads Toggle
TikTok's Paid Search Ads are native video ads on TikTok's search results page, labeled as "sponsored" and displayed in varying areas within the search page.
Ad placement varies according to relevancy, user intent (as understood from a user's search query), and broader learnings from user behavior. Ad behavior may also vary, including the ability for Search Ads to auto-play. TikTok Search Ads appear as thumbnail results in the search results page. Once tapped, the Search Ad changes to a customary in-feed video format, situated within the search stream.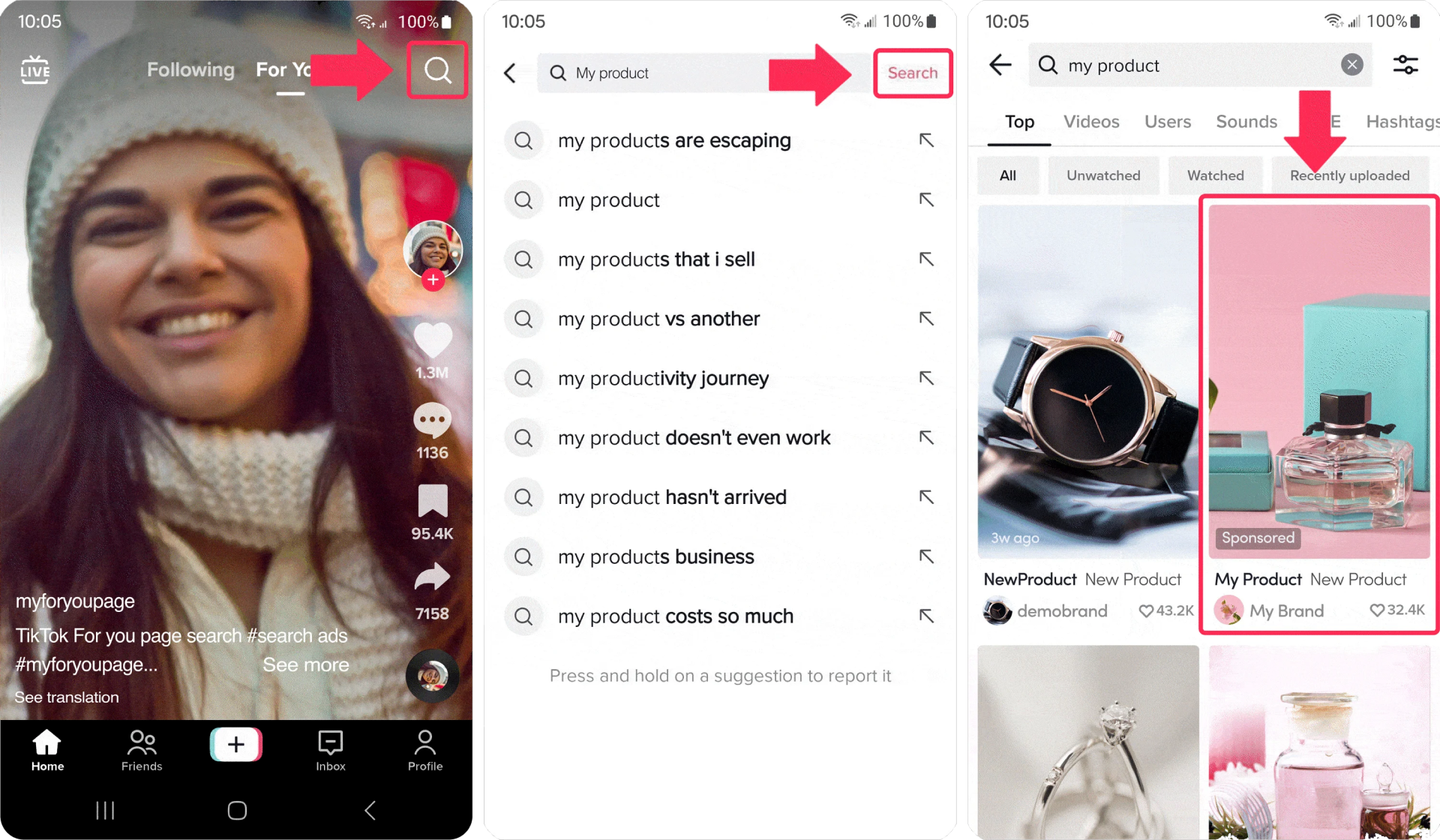 TikTok Paid Search Ads are an effective strategy to extend your reach to audiences exploring terms relevant to your business. As search reaches a higher-intent audience, brands have seen 5-6X improvement in conversion rate when adding in search placements*.
Key Features
Compatibility: Search placements are currently available for the following objectives: Traffic, App Installs, Web Conversions and Lead Generation. 

Targeting: Keywords are automatically created, matched and connected with ads to respond to user queries. This automatic system will look at app name, custom identity, video content (including text and non-text elements), URL (content from the web landing page), and video title as its main source of learning to understand which keywords are relevant. There is no keyword-specific targeting control available at this time. In the future, search ads plan to introduce increased control over keywords.

Brand Safety: You can add negative keywords to avoid serving search ads against queries that do not align with the brand. Match types (broad, exact, phrase, etc.) are supported, with 10,000 negative keywords max.

Reporting capabilities: Search reporting provides search term insights alongside relevant metrics such as cost, impressions, and more. Additionally, custom reports will include two new dimensions: Ad Type and Search Terms.
TikTok Paid Search Ads are ideal for consideration and conversion objectives. By appearing against relevant keyword search terms, brands have seen conversion rates improve significantly using search (5-6x compared to in-feed alone*).
Paid Search Toggle Best Practices
Text, text, text! In-post captions and text overlaid on a video impact paid search placement.

Keep copy broad with search in mind. Hashtags also play a part in search positioning.

Build videos with text overlaid in the TikTok app or CapCut for that text to be considered in paid search rankings (videos with text already overlaid before uploading to TikTok or CapCut will not be considered).

Campaigns with a broader audience targeting will have greater opportunity to show in search placements.
Following the below 'Organic Search Best Practices' also helps enhance paid search results.
Note: search ads cannot run as a standalone campaign/ad type at this time, instead it can be included as an additional placement to your typical TikTok campaigns. TikTok has plans to roll out standalone search campaigns in 2024. 
TikTok Organic Search 
TikTok's In-Platform Organic Search 
Brands shouldn't limit themselves to paid search tactics, as organic SEO on the platform also yields great benefits. TikTok's Organic Search functionality works differently than traditional search engines like Google. On TikTok, content discovery relies more on algorithmic recommendations versus search queries. However, the platform does feature search functionality to discover content, users, sounds and hashtags. 
Below is an overview of how TikTok's Organic Search functions and the best practices to consider. 
Discovery via Keywords and Hashtags: Users can enter terms into the search bar, and TikTok will display relevant videos, users and hashtags. Incorporate trending and relevant hashtags and combine popular and niche-specific hashtags in your brand's TikToks to increase discoverability and visibility.

Sound Search: Users can search for specific soundtracks or music clips. If your videos use a popular, trending sound, people searching for that track can discover it more easily. 

User and Creator Search: Users can search for specific creators or accounts. It is essential to have a memorable and recognizable username and ensure your profile picture is clear, recognizable and consistent with your brand.

Engagement Metrics: Videos with higher engagement (likes, comments, shares, play duration, etc.) will likely get more visibility in search results and on the FYP (For You Page). Create content that encourages interaction.Content Relevancy: TikTok's algorithm also factors in the content's relevance and authenticity. Original content that resonates with the platform's audience has a better chance of getting higher visibility.

User Behavior and Preferences: Over time, the platform learns user preferences based on their interactions. If a user often watches videos on specific topics or from certain creators, they are more likely to see related content in their FYP and search recommendations.

Engaging Content: High engagement (likes, comments, shares, etc.) can boost your visibility on the platform. Create content that encourages interaction and respond to comments, engage with other users and participate in challenges or trends.
Additional Tips: 
Optimize Video Captions: Use clear, concise captions with relevant keywords. Captions can provide context and encourage engagement.

Post Regularly: Content consistency can improve visibility on the platform and in search.

Use TikTok's Tools: Leverage TikTok analytics to understand what is working and refine the strategy.
Traditional Search Engine (Google, etc.) Best Practices
TikTok content can also appear in traditional search results, driving increased traffic and visibility to your content. The following best practices can increase the likelihood of TikTok content ranking:
Transcriptions and Descriptions: If sharing or embedding TikTok videos on your website or blog, ensure you include transcriptions and detailed descriptions of each video.

Embed TikTok Content: This can help drive traffic from your website to your TikTok profile and vice versa.

Optimize Thumbnails: If you are displaying TikTok content elsewhere, choose an attention-grabbing thumbnail.

Leverage Other Platforms: Share TikTok content across other social media platforms to increase visibility and backlinks.

Consistent Branding: Make sure your content, wherever it appears, has a consistent visual identity.

Optimize for Mobile: Since TikTok is primarily a mobile platform, ensure that any site or platform where you share TikTok content is also mobile friendly to maximize reach.

Backlinking: Encourage sharing and backlinking to your TikTok videos when they are featured on blogs or other platforms. What is backlinking? Backlinks refer to links from other websites pointing to your TikTok content. Links pass authority to the linked content and help it rank higher in organic search results.
TikTok Search In Action 
Early adopters of TikTok Search Ads have already shown significant conversation rate increases. 
According to TikTok, Clinique UK's use of Search Ads Toggle to promote its Even Better Clinical Serum Foundation allowed high-intent users to discover the brand's ad among other relevant videos on the search page. This activation proved valuable as Clinique captured sales from users who were already interested in its product. Clinique saw a 441% increase in Conversion Rate (5X higher than in-feed alone) and a 51% increase in CTR using TikTok Search Ads. The placements allowed the brand to capture high-intent users, as there was a 51% increase in CTR compared to in-feed ads*.
Crocs saw CPA lower by 25% using incremental and relevant reach via TikTok Search Ads. The brand also saw a 5X improvement in conversion rate and reached an incremental 2M people using search*.
*Based on TikTok-authored case studies.